Info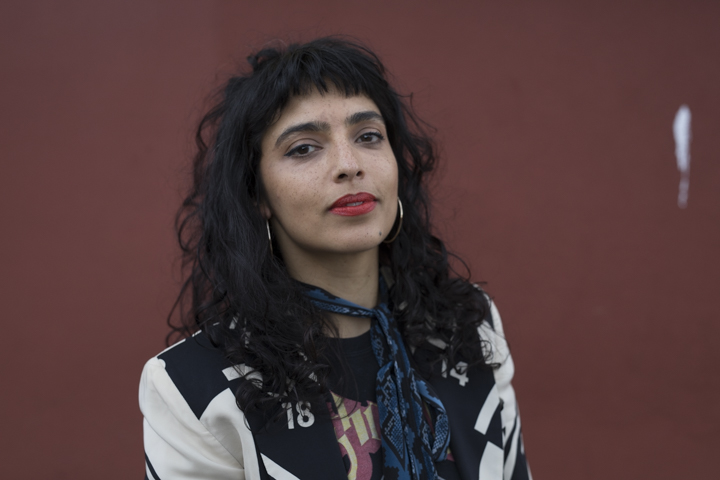 Ameena Kara Callender is an award-winning costume designer & stylist, represented in both London and LA.
With a background in fine art, craft and theatre, she is known for her highly original & inventive approach to costume design.
She draws on diverse references from her obsession with new music, fashion and counterculture to create realistic, character-driven costumes in both period and contemporary genres.
Her expertise spans film, commercials, music videos, stage, performance and fashion.
She loves the collaboration between creative departments and has built strong relationships with costume crews all over the world from her frequent travels for international projects.
Ameena is a regular collaborator with director Ian Pons Jewell  and has created unique pieces & collaborated on projects with Nadia Lee Cohen, Rosalia,  Katy Perry, and Stormzy amongst others.
She was awarded a silver British Arrow for her costume design on 'A Diamond's Journey'  in 2020, and was recognised for her design work with Noel Fielding with a Royal Television Society award.
AWARDS
The APA Collection 2023 – Quickbooks 'Eggs' 2023
AICP Award – Visual Style – Shortlisted – Doritos  2022
BRONZE SPIKE – Achievement in Production – Gojek 'The Flow' 2021
LIA AWARD – Bronze – Production & Post-Production: Visual Effects  – Gojek 'The Flow' 2021
British Arrows 2020 (Silver) – Costume / Wadrobe – The Diamonds Journey for The Diamond Producers Association.
LIA AWARD – Bronze – Production & Post-Production: Visual Effects  – Three 'Phones Are Good' 2019
D & AD Award – Wood Pencil / Film Advertising / Cinema Commercials – Three 'Phones Are Good' 2019
Cresta Awards – Moving Image – Shortlisted – Phones Are Good 2019
RTS Craft & Design Award – Costume Design 2011/2012  Noel Fielding's Luxury Comedy
DIRECTORS
Ian Pons Jewell
John Hilcoat
Dawn Shadforth 
Kim Gehrig
WAFLA
Tim & Joe
RBG6
Christian Larson
The Glue Society
Dan Sully
Matt Lambert
Sarah Chatfield
Aoife McArdle
CELEBRITY
Stormzy
Katy Perry
Taylor Swift
Ellie Goulding 
Black Eyed Peas
Charlie XCX
Bat For Lashes
Nick Cave
Daisy Lowe
Rosalia
Miles Kane
Pink
Camilla Cablleo
Goldfrapp
Diplo
BRANDS
Nike
Adidas
MTV 
IKEA
Guinness
Beats by Dre
Hornbach
Blackberry
Nokia
Apple
Stella McCartney
Microsoft
Samsung
—————————————————-
REPRESENTATION
UK/EU
LUX Artists
40 Great Portland St
London
W1W 7LZ
+44 20 7637 9064​
Commercial & Music Video
Jerry Deeney jerry@luxartists.net
Nikhil Sinh nikhil@luxartists.net
Jith Amarasinghe  jith@luxartists.net
Film & TV
Rebecca Fayyad rebecca@luxartists.net
Molly Eglesham  molly@luxartists.net
USA
Creative Artists Agency
2000 Avenue of the Stars
Los Angeles, CA 90067
+1424288200
Commercial & Music Video / Film & TV
Hilary McQuaide hilary.mcquaide@caa.com
Or for more information please feel free to contact me